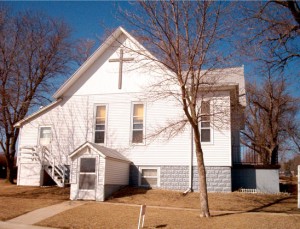 The Winside United Methodist Church is a member of a three church parish which includes United Methodist Churches in Pierce and Osmond, Nebraska.   The history dates back to May 4, 1884 when a Sunday School was established at Northside, a few miles west of the present site where Winside was previously located.  In 1886 the Sunday School was relocated to the Depot in Winside.  The previous church building was built in 1891.  There were many renovations since that time including raising the church in July of 1916 to add the basement.
For several years it had been apparent to our small congregation that we needed to do something to make our church more user friendly. There were several in our church family that are finding it more difficult to attend Sunday Services because the building required the use of many stairs in order to enter the sanctuary. After much prayfull investigation into the possibility of remodeling in order to make the building handicapped accessible it was suggested that perhaps it would be better to look into finding a suitable building site and building a new church. That was three years ago and we are happy to say that we have found the land and through the grace of God purchased it.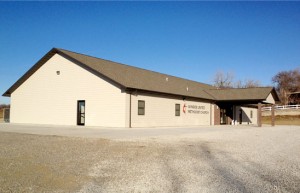 When you enter Winside the land is located on the south side of Crawford Avenue as you come off of Highway 35. In January of 2011 the new church opened and features a fellowship hall, larger seating and is handicap accessible.
We celebrate our rich history with plans for an exciting future in service of the Lord.